Latest News
Longbenton Juniors new A1Blinds Kit.
Posted 30/07/13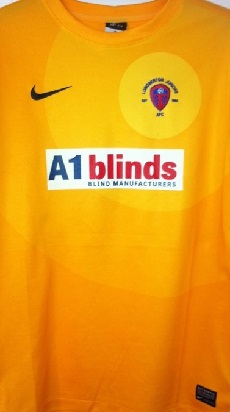 As mentioned in the News at the end of May, we are proud to be sponsors of Longbenton Junior Under 9 Football Team. We are delighted to announce that the new kits have been manufactured & are now in use. It is undeniable that these flash colourful strips certainly catch the eye.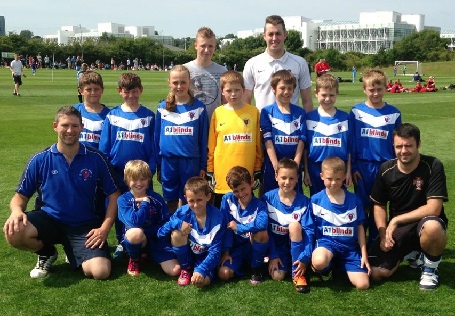 ---
Summer Sale radio advert.
Posted 08/06/13
We have just begun running a new radio advert for our special Summer Sale. It is currently being played on Smooth Radio (FM 97.5 MHz) – why not tune in & listen out for the offer, OR if you can't wait & you're keen to hear what it's all about you can listen to it via the link on the right. The offer ends the 30th of June.
---
Facebook Free Prize Draw.
Posted 28/03/13
Win any blind up to £150 in value – all you need to do is LIKE A1 Blinds on Facebook, one lucky winner who has liked us will be chosen an random.
Details of the winner will be published on our website.
---
Constructionline.
Posted 23/03/13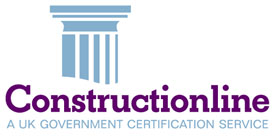 We have lately been successfully accredited & joined the Constructionline pre-qualification scheme – the UK's largest pre-qualification database.
By becoming pre-qualified in this manner by both the CHAS scheme in February & now Constructionline, acknowledgment has been shown that we meet industry & Government standards. It's a great tool for us to select quality suppliers; promote our services and gain new work opportunities.
---
A1 Blinds joins social networking.
Posted 21/03/13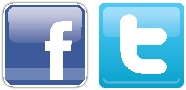 In order to keep our services as accessible as possible, we have recently become part of both the Facebook & Twitter community. We always gladly appreciate any feedback about our customer service, manufacturing / lead times and blinds quality. Now that we are part of these social networking sites – our valued customers have even more ways to get in touch. Gone are the days where the only options for correspondence were by telephone or post.
---
CHAS Accreditation.
Posted 28/02/13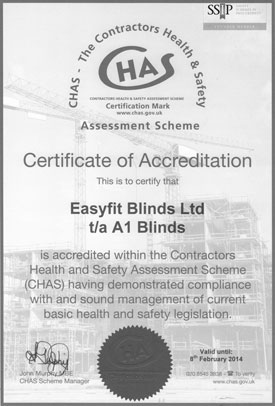 We are pleased to announce that A1 Blinds are now CHAS accredited (Contractors Health & Safety Assessment Scheme). CHAS certificate
Each month thousands of contractors and suppliers (such as A1 Blinds) apply for work with public and private sector organisations (buyers). To win work, they must meet the buyer's health and safety standards.
Assessing a suppliers health and safety competence is usually a lengthy and time consuming process. Suppliers can sometimes meet one buyer's Health and Safety standards but not another. Being CHAS approved reduces duplication as suppliers compliance is accepted by all CHAS buyers.
The CHAS scheme assesses our:
Health and safety policy statement;
Our organisation for health and safety;
Our specific health and safety arrangements to a standard acceptable to our buyers and to others.
---
Child Safety Campaign.
Posted 12/02/13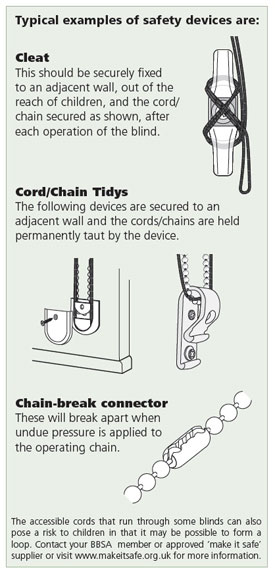 A1 Blinds are fully committed to help eliminate risks associated with harzardous looped operating cords, chains and tapes used on window blinds.
Child Safety is paramount here at A1 Blinds. Window blind cords and chains must be kept out of reach of babies and small children and there are many solutions for new and existing blinds. Here is what you should do now if you have babies or young children living in your house or if babies or young children may visit:
Examine every blind in your home. If they have a looped control chain or cord and do not have a safety device fitted then you can easily install one of the many devices available. Ask our excellently trained staff at A1 Blinds, we will be happy to assist you.
• Ensure that all operating blind cords and chains cannot be reached by children.
• When buying a new blind always look for one that does not contain cords, has concealed cords or has an in-built safety device.
• Move cots, beds and any furniture away from windows and blinds – remember children love to climb.
For more information on child safety at home please see:
Royal Society for the Prevention of Accidents (RoSPA) website
Child Accident Prevention Trust (CAPT) website
---
Fly Screens.
Posted 12/11/12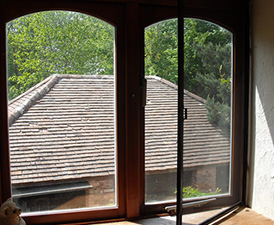 A1 Blinds now manufacture and supply retractable Fly Screens for both doors and windows, suitable for both Residential and Commercial use.
This product folds out of sight when not in use and is popular for Conservatories, Patio Doors and Commercial Kitchens such as Restaurants, Hotels, Hospitals, Care Homes etc.
---
Company Logo Screening.
Posted 29/09/12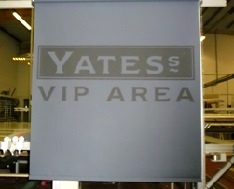 For Company and Commercial clients we now offer a Company Logo Screening Service.
For a professional and corporate look, stand out from other businesses by having your Made-to-Measure blinds screen printed with your Company Logo. Suitable for Shops, Pubs, Restaurants, Offices and Boardrooms.